O-M-G! Let me just tell you that this week has been long and tiring!!! I apologize to all my loyal followers who haven't forgotten about me! I actually wrote my BTT post from yesterday a couple of weeks ago, knowing that I was going to be super busy this week. This was my first week back, and my students start on Monday. Yes, we work four full days before our students start. One of those days is considered a work-day in our classrooms. That means three remaining days for meetings. Long, sitting-all-day meetings.
Here is what my classroom looked like before:
Since I was able to stay in my room, I was able to leave my bulletin board fabric up. That did save some time getting set up.
I decided to work on my library first.
Now for the after photos:
The view of my classroom from the door
The view of my classroom from the front corner
My desk & my co-teacher's desk (against the board)
Here are some close-ups of my bulletin boards:
My Jobs Board. Paper is recycled newspaper. I created the bulletin board set, and it can be purchased in my Teacher's Notebook shop! (Everything 20% off until Monday!)
One of my reading recommendation boards. Student's names are on the different sports balls. The other recommendation board for my other class is titled "Reading is a Hit With Us" and each student has a baseball cap they will place their recommendations under.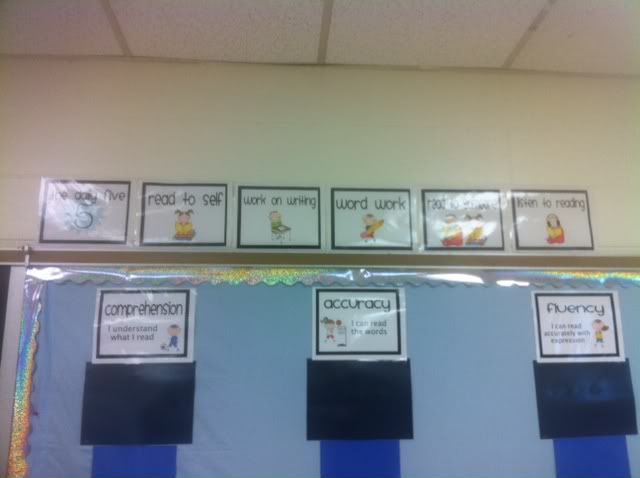 My CAFE Board. I just realized I didn't get a picture of the whole thing. You can see the sports-theme CAFE posters and the Daily 5 posters above the board. Both available in my Teacher's Notebook shop!



And to celebrate the first day of school (and to thank you for sticking around to the end of this extremely long blog post), I am giving away a freebie! I am going to give my students gifts on the first day of school. They will get an eraser, pencil, a penny, and a pack of smarties. I will put them in a lunch sack and attach this to it.



All I ask is that you please rate my shop! I have had a lot of sales and not one is leaving feedback!