I am nowhere near as creative as some of the fabulous bloggers I follow. They have the cutest ideas, lessons, and classrooms. This is one of the reasons I don't have a Teachers Pay Teachers store. Another reason is because I steal most of my ideas. I have no problem admitting it.
Do these look familiar to you?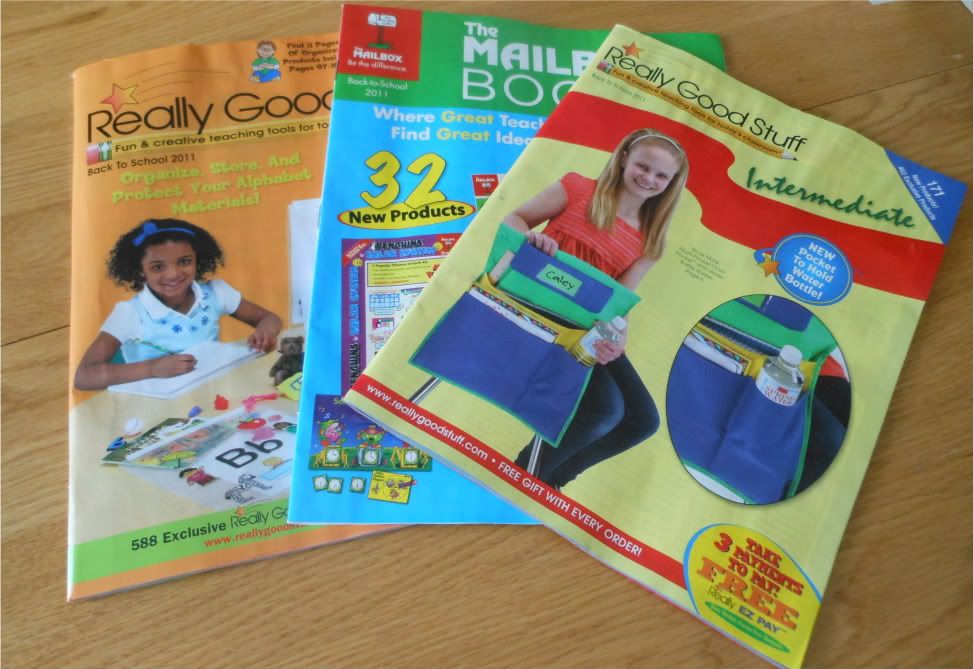 I thought so. If you're like me, you get about two dozen a week. These three I got today. What I do with them is a secret, though. My bloggy friends can keep a secret, right? Before throwing them in the trash, I pull out the pages of the things I like and then do my best to recreate them.
Let's face it, we're teachers. We're not racking in the big bucks here. And I don't get any money from the school for use in my classroom, so I have to be resourceful. I don't take the ideas then try to sell them as my own, so there's nothing wrong with it, right? Also, how many times do we buy something because it looks like something we want or need, but then it turns out we can only use parts of it? When you recreate things, you fit them to your needs.
Those chair pockets you see on the front of that Really Good Stuff catalog? I've seen those in countless classroom pictures-all homemade. If I could channel myself back into my very successful 7th grade home-ec days, those would be on all the chairs in my classroom, too. There are other really cute ideas for posters and bulletin boards in these magazines.
So, before you throw away your next round of catalogs, look and see if there's anything in there you can *ahem* adjust to fit your needs!