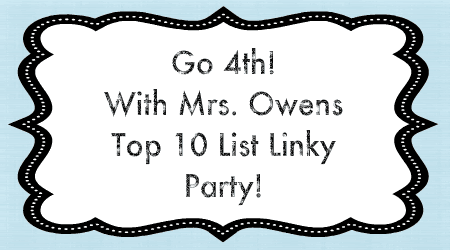 Here is my top ten list!
10. I've lived in the same town my whole life (besides the time I spent in college).
9.
I have been friends with my best friend for 26 years! (I'm only 28-you do the math!)
8. I have a sister who lives in Florida.
7. I love Disney World more as an adult than I did as a kid. I went twice as a child, and I've lost count how many times I've been in my adult-life.
6. I am a reality-TV show junkie. (Especially the Real Housewives. My hubby says I kill brain cells whenever I watch them.)
5. My favorite author is Nicholas Sparks. I'm a sucker for his sappy romantic books!
4.
My favorite drink is unsweetened iced tea.
3. My favorite sports team is the Ohio State Buckeyes!
2. I truly love my job. I can't imagine doing anything else with my life.
1. I have the coolest two-year-old on the planet for a son!
Your Turn-Click the link above to join the party!